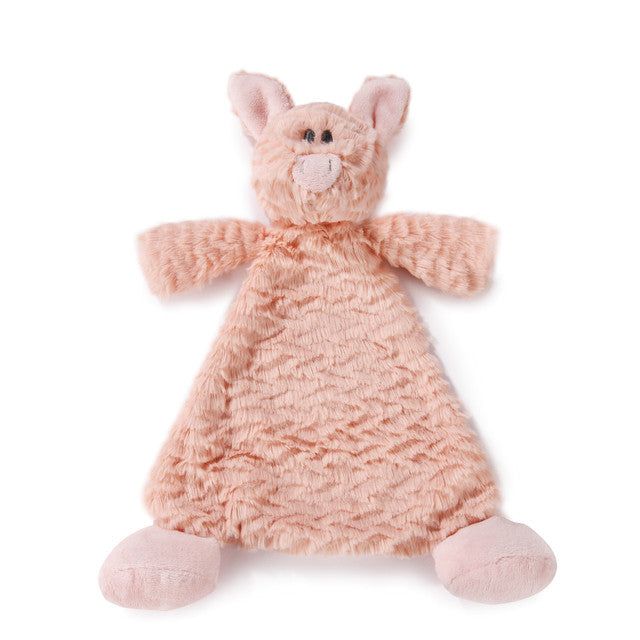 Hometownshirts
Puddler Pig Rattle Blankie
PUDDLER PIG RATTLER SECURITY BLANKIE IS $17.95 WITHOUT EMBROIDERY.  IF YOU WANT PIG PERSONALIZED SELECT EMBROIDERY, WHAT TO EMBROIDER, THREAD COLOR THEN ADD TO CART.  WHEN YOU ARE IN CHECKOUT ENTER IN SPECIAL INSTRUCTIONS FOR SELLER BOX, WHAT YOU WANT PIG TO SAY AND IF YOU WANT SCRIPT OR FANCY BLOCK FONT.
 Our Puddler Pig Rattler Security Blankies are adored by all little ones. Create a charming gift for a new born, Christening or Baptism when you have baby's name embroidered on the blanket.  Expecting a new little one in your extended family or have a birthday coming up?  This blanket will be a gift that will be a keepsake for many years to come. Our Puddler Pig Rattler Security Blankie makes the perfect gift for little ones.  Babies love the softness of these blankets.    Machine washable, but good luck getting it away long enough from the baby!  We recommend getting 2 when you order so you can alternate them between washing and if you would happen to lose one you will have a backup.  Trust me, we get people calling all the time needing a replacement right away, blanket has been lost and baby won't sleep without it.
-A great gift for baby showers, new born gifts, baptisms, birthdays, Christmas or as an Easter gift for baby.   An animal-shaped security blankie. Offers fresh features, including unique fabric textures and rattles, to make blankets unique. Soft, snuggly materials maintain quality and make these plush blankies a timeless favorite. Perfect baby gift. Features a super soft plush fabric with a rattle. Best fits for giving as a gift for newborn babies.
Let us customize your Puddler Pig Security Blankie with the child's name embroidered on this super soft baby blankie.  Prices for our Rattler Security Blankies are as follows $17.95 for NO PERSONALIZATION, $22.95 for 1ST NAME ONLY, $23.95 for FIRST AND LAST NAME and $24.95 for NAME AND DATE 2 LINES.
---
More from this collection