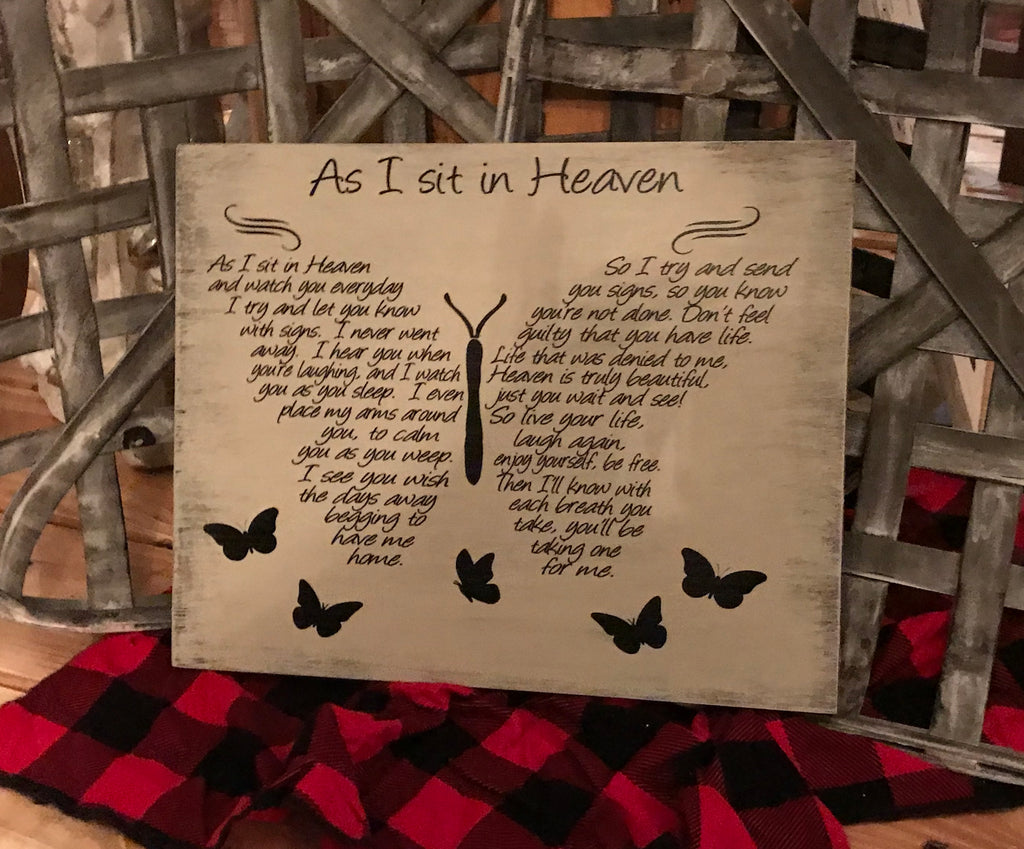 Home Collections
As I Sit in Heaven
Our handmade As I sit in Heaven is the perfect gift for all those who have lost a loved one.   This sign is made from premium cabinet wood in either oak, birch or cherry.  Our signs are designed, cut, stained and painted in our studio.  We have a wide range of designs and sizes to choose from.  If you are looking for something special please let us know.   All wood signs can either come with or without frame and hanging hook.  No two signs will look exactly the same since they are all individually handmade. 
Size:  14" x 10" Size may vary a little within an inch.
Sign Reads:  "As I sit in Heaven and watch you everyday I try and let you know with signs, I never went away.  I hear you when you're laughing, and I watch you as you sleep.  I even place my arms around you, to calm you as you weep.  I see you wish the days away begging to have me home.  So I try and send you signs, so you know you're not alone.  Don't feel guilty that you have life.  Life that was denied to me,.  Heaven is truly beautiful, just you wait and see!  So live your life, laugh again, enjoy yourself, be free.  Then I'll know with each breath you take, you'll be taking one for me."
If you don't see what you are looking for please reach out to us by email: sales@hometownshirts.com   WE CAN ALSO MAKE SIGN IN A SMALLER OR LARGER SIZE IF NEEDED JUST EMAIL US.

---
More from this collection