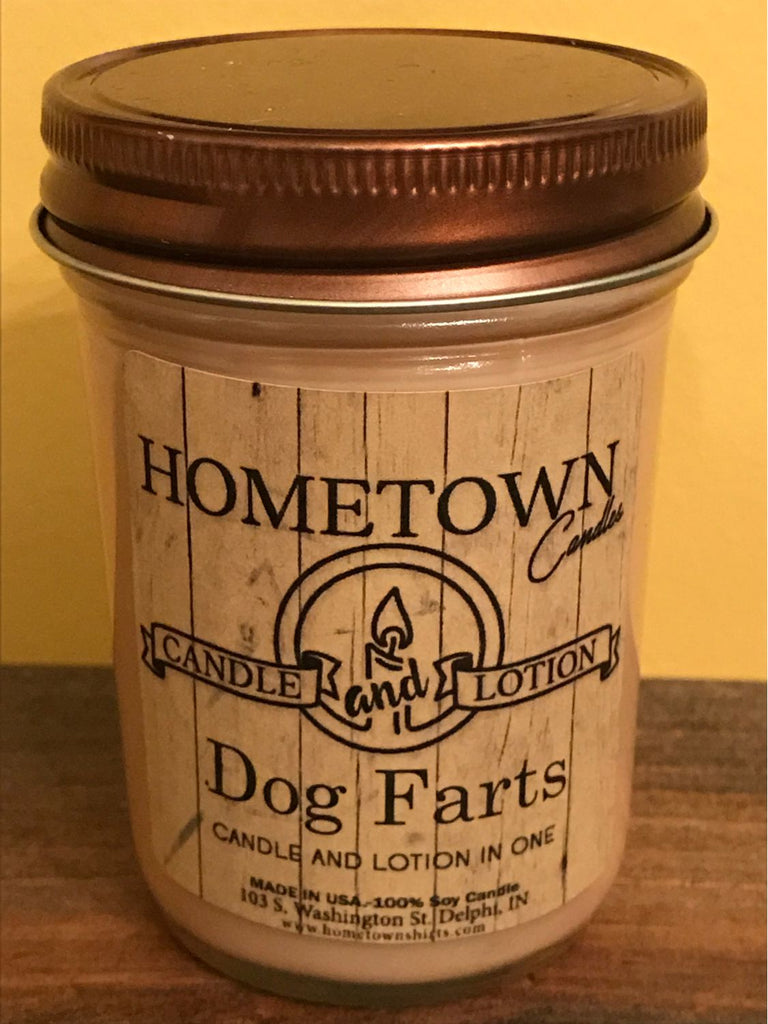 Hometownshirts
DOG FARTS
DOG FARTS Lotion Candle-Our Dog Farts Lotion Candle really does smell good, not like your normal dog farts.  Lol!!!

Who doesn't love candles and lotion? Why not get them both in 1 candle? Yes, you read it correct. Our candles are a lotion and candle in one. Melt candle down , dip your finger in wax and rub lotion on your skin. Spice up your home or cheer up a loved one with these hilarious lotion candles that are saying what we're all thinking! Our funny lotion candles are the perfect addition to your home or as a gift to loved & are the perfect addition to any decor!

Burn time is approximately 35-40 hours depending on air currents in the home or office. All of our candles are made with 100% soy wax, and 100% braided cotton wicks with no lead! Our soy candles are made from soybeans and are completely biodegradable. They are renewable, sustainable, environmentally friendly, and biodegradable, water-soluble. Since the melting point for soy wax is relatively lower than paraffin, petroleum or beeswax, they are longer lasting and have a cooler burn. Always burn candles in areas free from drafts. Never leave your candle unattended.
Size: 3.38" D x 3.19" H 8 oz. Jar



*****Why Choose Hometown Candles?*******

***Our Candles are Handmade From 100% Natural Soy, & as always with love!

***Our Candles Are Made From Superior High Quality Essential Oils & Fragrances With Maximum Scent Usage!

***Our Highly Scented Candles are made in small batches daily to ensure Freshness!

***Our Candles are Made in USA.


************************************* SCENT DESCRIPTION ************************************



DOG FARTS-Our lotion candle has a wonderful aroma, not you normal dog fart smell.

*****All of our Candles are slowly hand poured into containers. Our Candles are made with a blend of %100 Soybean, this allows the maximum fragrance usage and long lasting scent that burns longer than your average candle! Our Candles are made from Lead Free Cotton wicks!

Candle Care:
Please remember to trim your wicks down to 1/4 inch when burning to prevent accidents and large open flames.

Warnings:
Do Not Eat! + Keep out of reach of children and pets. Never leave Candle unattended. Never add anything to candles. Keep free & clear of debris & anything flammable. The company is not responsible for any skin irritation, rash, allergic reaction, burn or damage.


Shipping & Return Policy: Shipping will be between 3-5 business days after your order is processed.

Due to the nature of our products we do not accept returns. Because our products are made to order daily in fresh batches, we also do not accept cancellations, sorry for any inconvenience this may cause.